About
Welcome to the world of 'Oscar' – the world's only truly interactive promotional exhibition robot.
Used at exhibitions, events, conferences, trade fairs and campaign/product launches, you can hire Oscar the exhibition robot to reach and engage with people like no other.
Promotional exhibition robots like Oscar can be rented to help drive visitors, leads, sales and awareness of products and services to both the trade and the public.
Promotional exhibition robots can be programmed to inform, entertain and educate in a world where gadgetry, apps and social media are commonplace. Robots have an ability to command and captivate whenever and wherever they appear.
Contact Oscar now to find out how he can attract and engage your target audiences or Read More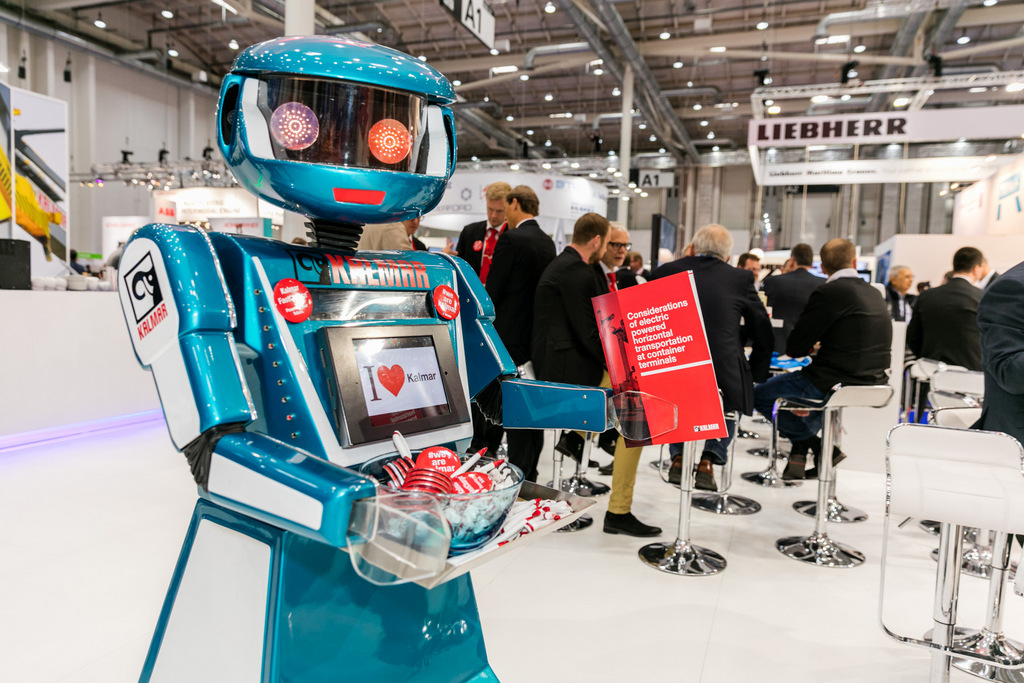 Events and Campaigns
Are you looking to hire something unique, stimulating and highly visual that will make your company stand out from its competitors at your next exhibition, public event or trade show?
Do you want to see increased footfall and sales from your exhibition stand?
Do you want an event or campaign launch that people will remember and talk about for years to come?
Oscar is the only truly interactive promotional exhibition rental robot, built specifically to engage, educate and entertain your target audiences.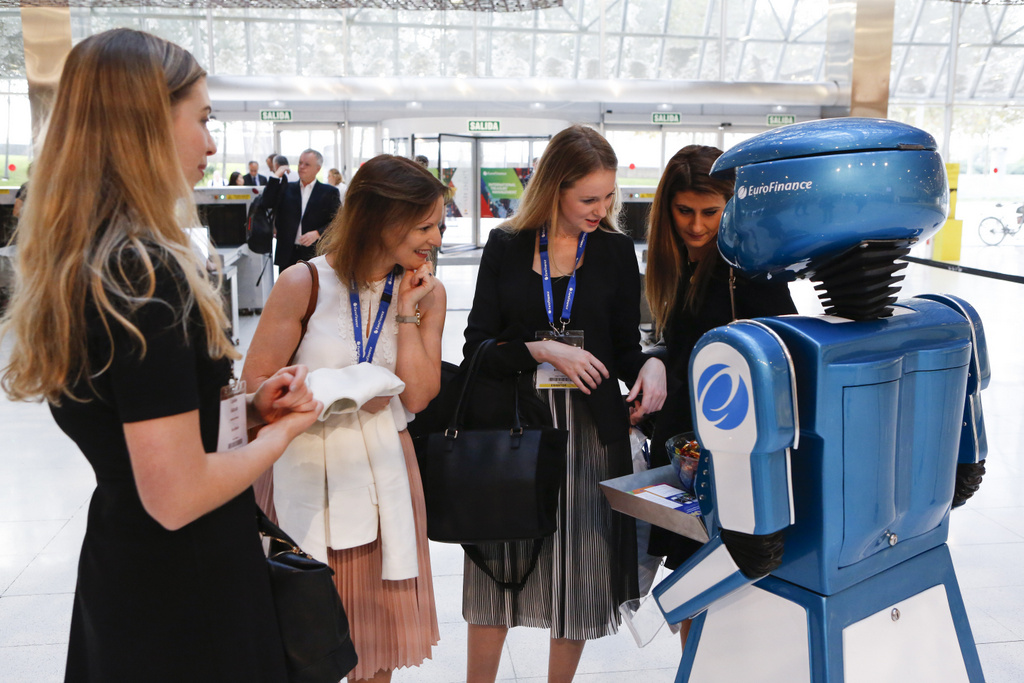 or
Contact Oscar now
to find out how he can attract and engage your target audiences
Latest News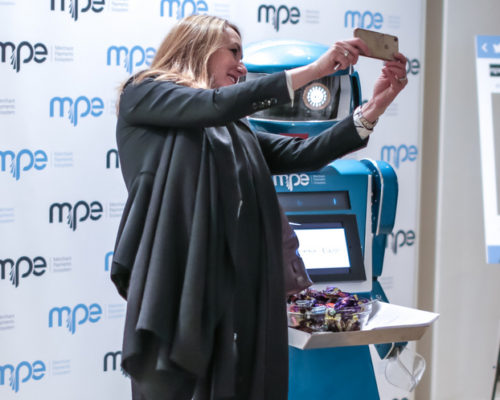 Oscar on his travels!
20th December 2019
Guten Tag! Oscar is on his travels again after being booked for the Merchants Payment Ecosystem 2020 (MPE) conference in Berlin following his success at the same event last year. Established in 2012, MPE is Europe's largest and most prestigious
> Read more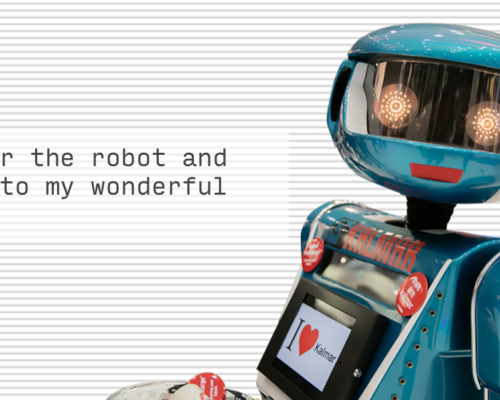 New website for Oscar!
29th November 2019
Oscar the promotional exhibition robot is getting ready for a bumper 2020 with a bright new website to promote his services. Designed by Mercury Group, the new website details his adventures around the world, working for clients from big muti-nationals
> Read more
Testimonials
"We hired Oscar to join us in Berlin as part of our 12th annual MPE conference in February 2019. The idea was to bring something innovative and new to the event to help boost online marketing, especially via social media. We were unsure how he would be received, but it turned out to be an excellent concept, the feedback from our participants was great, everyone loved Oscar. So many people were chatting and taking photos with him, posting them online, giving our brand great visibility. I can highly recommend hiring Oscar, so much so that we have re-booked him our 2020 conference. And big thank you goes to Maurice for a great job before and during the event as a support."

Robert Varga, MBA Co-CEO
Head of Operations & Strategic Partnerships
Empiria Events

"He always ensures in advance that he understands the client's business themes and messages, so that he can promote them clearly and accurately. He works tirelessly and creates a great buzz and atmosphere, resulting in heavily increased footfall on and around the stand."

Paula Carroll
Events Team
Dell | EMEA Marketing

"Oscar is awesome. For Oracle, he acted as the perfect ambassador that Technology is "friendly", "accessible" and "communicative". People loved Oscar, even our State Minister."

Joachim Skura
Strategy Director HCM DECH
Oracle

"We have hired Oscar for two events now, one here in the UK and the other in Paris. He was the star attraction on both occasions. News spread quickly amongst delegates as they came to have their photo taken with him on our booth, no-one had ever seen anything like Oscar before. Everyone was talking about Stratus during and after the event. We were very happy with the entire process and results. Maurice was a pleasure to work with and made sure everything went to plan. We will definitely be booking Oscar for future events after the buzz and number of leads we generated because of his presence"

Silvia Boblea
Marketing Specialist
EMEA Stratus Technologies

"Oscar was a fabulous addition to the team at the EuroFinance annual International Treasury Management event that took place in Barcelona in October. Oscar engages fantastically with people who are genuinely baffled by his full interaction. Thank you team Oscar!"

Matt Herring
Head of Global Operations for Events
EuroFinance and Economist Events

"I just wanted to let you know, that you both gave the very best promotional support at the LAC last week. I can honestly say that in the last 20 years, we have never had a better and more effective stand attraction. The show you made was amazing. We received overwhelming feedback from delegates and exhibitors, and how much the audience loved Oscar.
Oscar boosted the visitors onto our booth by several hundred percent, and made an awesome job to motivate visitors to come speak with us.
Many Thanks from all the team."

Bernd Heinisch
Head of Business Development
Elbsurfer Marketing Services GmbH, Hamburg

"We have hired Oscar at two events now and can honestly say he has been the centre of attraction, he interacts with the visitors and engages them in conversation about our services in a fun but professional way. He certainly brought business to our stand and would use him again."

Gill Rogers
Director of Sales
www.smarttar.co.uk

"We would certainly recommend Oscar as he added a new dimension to our events. It was the first time that he had attended our European Sales Conference which was held in Malta, and both delegates and suppliers were delighted with how Oscar created a lively atmosphere and contributed to a successful and enjoyable delegate experience."


Emily Quinton
Marketing Communications Manager
Fisher Scientific

"Following recommendation from a marketing colleague from Oracle who had hired Oscar in Barcelona, we managed to secure his attendance at our event held in Amsterdam and with great effect. His presence front of our stand was the highlight of the conference and generated a great deal of interest from our existing and potential customers, all of whom wanted to meet with him in person and have their photograph taken stood with him. We would definitely recommend and use Oscar in the future."

Nynke Barenholz
Senior Marketing Director Applications
WCE North Oracle Nederland BV | The Netherlands

"Oscar is one of the best stand drivers I've ever had at an exhibition. Not only is he eye catching (and attention-seeking in his discussions!) but he works as an excellent way to initiate conversations for your sales representatives. We had people actively seeking out our stand to meet him! If your objective is lead generation, you need Oscar on your team."

Victoria Morrison
Head of Events and Marketing

"Working with Oscar for Retail Week Live was an absolute pleasure. He brought a fun, forward thinking and extremely memorable element to the event and succeeded in promoting the launch of Tech. Powered by Retail Week, our second headline event. He got our delegates talking and tweeting and helped to build the excitement and interaction we want to achieve at Retail Week Live. We will definitely be rebooking."


Rosie Birchenough
Event Manager
Retail Week Live

"Oscar was our companion at one of the usual exhibition events that we attend and he was brilliant. He attracted everyone to our stand making us the centre of attention for that day. Delegates were charmed by his witty humour and friendly character. Definitely great value for money!"

Diana Kamkina
Brand & Marketing Coordinator at Halarose Ltd

"Oscar was a game changer at our BRAIS event. From the very beginning our clients were fully engaged with him. I could not have thought of a better brand ambassador for our event. The impact Oscar had in our internal stakeholders and clients was unprecedented."


Gonzalo Rico
Marketing Manager Bloomberg L.P.